Openness, honesty and optimism for the future: Keys to Mikaela's recovery from meth addiction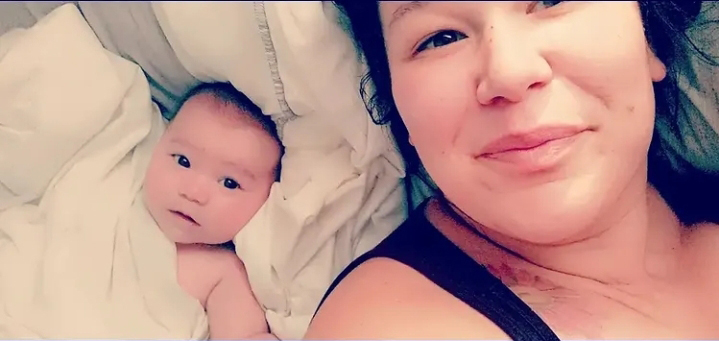 Published April 25, 2022
The second time Mikaela tried to get well from meth, she called Face It TOGETHER. It made all the difference.
"Kattie called me the day after I reached out. I was very much in withdrawal and she talked me through it," she said. "It changed my life."
When Mikaela first got well, she wasn't staying active in her recovery. It was a year of change – she got married and had her second daughter – but she didn't have the right tools in place to prevent relapse.
"You have to give 110%. That goes for anything, you can't go about anything halfway, but especially in recovery. The first time I got sober I probably only gave 80%, and it wasn't enough," she said. "Once I started doing all these things to make my life better, that's when my life got better. You can't hope and pray without doing the work."
After Mikaela's relapse – or recurrence of symptoms – she opened up to her husband and family. She didn't want to lie or hide anymore. That's when she decided to look for online counseling. Her second daughter was only six months old and she couldn't be away from home for 30 days to go to treatment.
"I found Face It TOGETHER and loved that it was basically people just like me who got sober and decided they wanted to help other people," she said. "I said, 'Yeah, let's give it a shot.'"
Initially, Mikaela was skeptical.
"I was thinking to myself, 'How will this woman keep me sober from four states away, when a rehab an hour away didn't work for me?'" she said. "But it turns out she's a great person. Aside from being my coach, she's become my friend."
Though Mikaela lives in Wisconsin and Kattie is in South Dakota, she's been able to connect in a way that she can't with most of her family.
"I don't have family who really understands the struggle. Even my husband, who's done a lot of me in recovery, has never done drugs. He doesn't know the battle," she said. "When I'm talking to Kattie, it's nice that she just gets it. I never thought it possible for her to have such an impact on my life and be so far away."
Mikaela has especially appreciated Kattie's help when it comes to her high anxiety.
"When you come off meth, you're anxious pretty much 24/7. I'm still struggling with that; my mental state isn't where I need it to be. Kattie keeps me on track and reminds me what I need to be doing for myself," she said. "Because the first time I got sober, I didn't do anything for myself."
Kattie has helped connect Mikaela to other resources for anxiety and unresolved trauma, including EMDR and meditation. She also encouraged Mikaela to be more open with others.
"I've always been a very closed off person. Kattie has taught me not to do that. She'll say, 'No one is going to benefit from you being in this position.' It's been a huge eye opener," she said.
As a result, Mikaela's relationships are stronger.
"Every relationship – from my parents to my customers – was a lie. I had to start over," she said. "Now, I feel like I can actually be me. I don't have to lie or cover up who I am."
Throughout her work in recovery, Mikaela is trying to be the best version of herself.
"I'm in a really good place in my life. I feel like I'm truly done with drugs," she said. "I just want to be healthy and better, love my family and embrace my life the way it is today."
Looking back, Mikaela believes Face It TOGETHER played a "tremendous role" in her recovery.
"If I wouldn't have picked up the phone that day, I don't know that I'd be sober right now. I'm thankful for Kattie and the organization as a whole – it's a beautiful, beautiful contribution to the community of addiction," she said. "I've been thinking about going back to school, which is nothing I ever thought I'd say. I'm optimistic for the future and I never used to be."