Face It TOGETHER announces Solving Addiction on the Green
March 22, 2021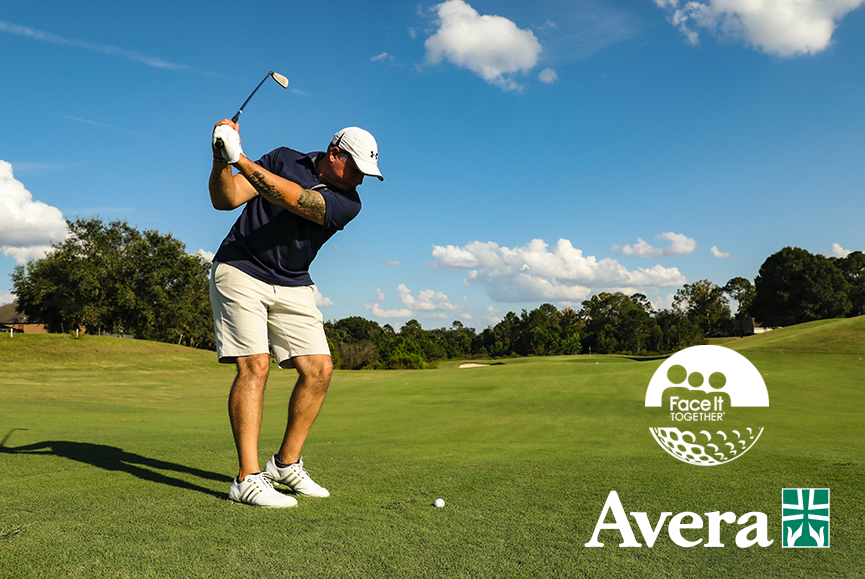 News release
SIOUX FALLS, SD – This spring marks the return of Solving Addiction on the Green, Face It TOGETHER's premier golf tournament. Presented by Avera Health, the tournament will take place at the Minnehaha Country Club May 24, 2021.
Face It TOGETHER is proud and excited to partner with Avera Health, the presenting sponsor, to host this year's tournament. This event will raise funds to provide life-changing and data-driven peer coaching to those struggling with the disease of addiction.
"Avera Health has been and continues to be a leader in our communities and an excellent resource to those fighting the disease of addiction," said Dane Bloch, Face It TOGETHER's Director of Development. "We are honored to have Avera Health's support in this important effort. Together we will make a significant impact in the lives of those with addiction and their loved ones."
Solving Addiction on the Green will be a premier event in the Sioux Empire. The tournament will bring together more than 100 golfers and dozens of businesses to raise more than $100,000 to support peer coaching services for addiction. Corporate sponsorships and limited team registrations are still available. 
"Avera is proud to work with Face It TOGETHER in our communities as we combat the disease of addiction. Solving Addiction on the Green is a great event that will help to support needed services for many," said Thomas Otten, Assistant Vice President of Avera Behavioral Health Services.
About Avera Health
Avera Health is an integrated health system based in Sioux Falls, S.D., serving South Dakota and surrounding areas of Minnesota, Iowa, Nebraska and North Dakota. Avera employs 19,000 at 315 locations that include 37 hospitals, 200 primary and specialty care clinics, and 40 senior living facilities in addition to home care and hospice, sports and wellness facilities, home medical equipment outlets and more. Avera offers 60 medical specialties with signature patient care programs including oncology, bone marrow transplant, cardiology, solid organ transplant, orthopedics, gastroenterology and behavioral health. As a health care ministry, Avera carries on the legacy of the Benedictine and Presentation Sisters, delivering care in an environment guided by values of compassion, hospitality and stewardship. Learn more at avera.org.
About Face It TOGETHER
Face It TOGETHER is an addiction wellness nonprofit that provides peer coaching to those impacted by addiction, including loved ones. Established in 2009 in Sioux Falls, SD, Face It TOGETHER has coaches throughout the Midwest and members in more than 20 states.