New concept for addiction support opens in Denver
August 27, 2018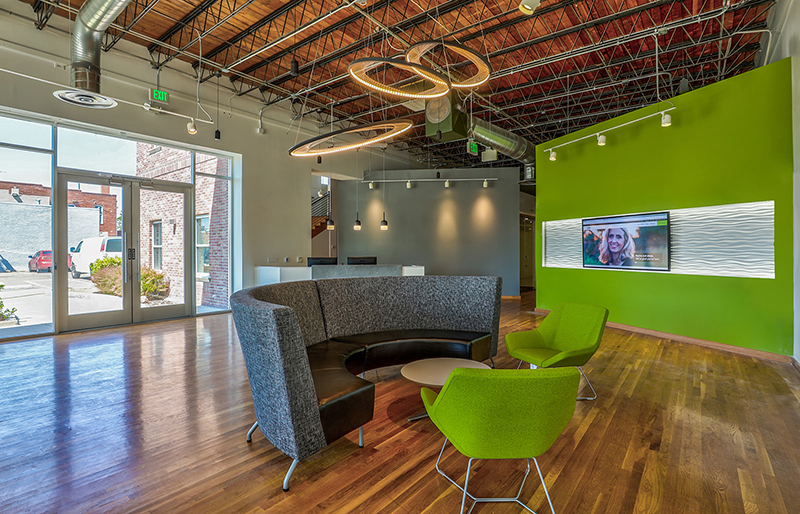 News release
Denver, CO – Face It TOGETHER has opened a flagship coaching center in Denver designed to offer a dramatically different experience for those impacted by alcohol and other drug addiction and fill a growing need in the market for high quality, affordable addiction support.
Face It TOGETHER is a nonprofit organization that harnesses the power of peer support to help people get well and stay well from addiction. The organization, founded in South Dakota, has been operating in the upper Midwest since 2009 and recently moved its headquarters to Denver.
In the Denver region, approximately 255,000 people ages 12 and up suffer from alcohol or other drug addiction, and Colorado stands out nationally for heavy substance use. It's estimated that addiction-related issues cost the Denver area almost $884 million annually. 
Face It TOGETHER's coaches have personal experience with addiction and provide specialized support to people with the disease as well as their loved ones. Face It TOGETHER's approach is highly data-driven, with coaches tracking client progress through a digital health platform in more than 60 areas. Their coaching is focused on helping people improve every aspect of their lives, not just the part that involves drinking or using. 
Face It TOGETHER's new coaching center at 636 S. Broadway is unlike anything else in the addiction care industry, featuring a light-filled, open and modern design. The space was designed with help from leading experts in customer experience to combat stigma and make people feel comfortable and supported the moment they walk through the door.
"We expanded to Denver because we recognize the great need in the community and our potential to make a major impact here," said Kevin Kirby, founder and CEO of Face It TOGETHER. "Our goal is to reach the 90 percent of people with addiction who don't come forward for help. We work hard to reduce fear and demystify the process of getting well so taking that first step doesn't feel so overwhelming." 
Coaching is convenient and flexible to easily fit into someone's life. Sessions are offered in person and remotely by secure video, email, text or phone through the Face It TOGETHER mobile app.
Coaches work with clients to develop effective, science-based strategies for behavior change, learn practical skills to manage their chronic disease, address barriers to wellness and re-establish connections to family and community.
"We focus on helping people get unstuck from the challenges they're facing. Our coaching space, technology and customer experience have all been thoughtfully designed to bring something new – and far more effective – to those battling addiction," said David Whitesock, Face It TOGETHER's Chief Innovation Officer.
Using their externally validated assessment tool, the Recovery Capital Index, Face It TOGETHER's data show that 91% of their clients with addiction show measurable steps toward wellness after 90 days of coaching.
Face It TOGETHER also provides coaching for loved ones of those suffering from addiction. Their unique approach eschews "tough love" in favor of evidence-based approaches that are more positive and supportive. Their coaches for loved ones help friends and family strengthen their own wellbeing, improve communication, model and encourage change and establish healthy boundaries with the person struggling.
Because of the significant economic costs of addiction to business, Face It TOGETHER also partners with leading employers to offer peer coaching to employees as a mental health benefit through its Workplace Initiative program. GE Johnson Construction Co. has supported Face It TOGETHER's relocation to Denver and is the first local company bringing the Workplace Initiative to its employees.
"We join forces with employers to address an often hidden and very costly business problem," said Jane Ingalls, President of Face It TOGETHER. "We help companies better support their team members, strengthen their culture and enhance their bottom line."  
One of Denver's largest private foundations, the Daniels Fund, awarded Face It TOGETHER a $1.2 million grant last year to bring the organization to Denver. Established in South Dakota in 2009, Face It TOGETHER has moved its headquarters to Denver and plans to open two more coaching centers in the metro area over the next three years.
Coaching is available for $375/month. This includes unlimited coaching sessions, unlimited messaging with your coach, wellness assessments, a personalized addiction management plan and more. 
###
About Face It TOGETHER
Face It TOGETHER is a nonprofit organization that provides effective, science-based peer coaching for people living with addiction, including loved ones of those with the disease.  Established in 2009, Face It TOGETHER is headquartered in Denver, with coaching centers in CO, SD, ND and MN, and clients in more than 14 states.