Case study: Culture change for workforce health
October 7, 2016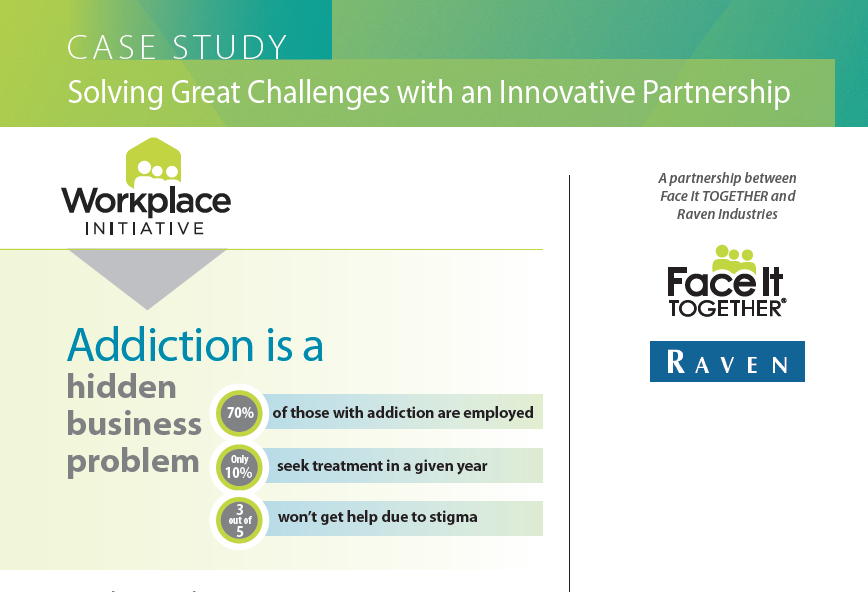 Raven Industries has been committed to solving great challenges for more than 60 years. In their several-year partnership with Face It TOGETHER, they joined forces to build a culture of addiction wellness in the workplace to help get employees and their family members well.
Previously called the Workplace Initiative, Face It TOGETHER @ Work brings an effective solution to a hidden and costly business problem.
"We avoid turnover and get high productivity, and people are more fulfilled and enjoy their work life here. Face It TOGETHER fits into that big picture by helping with one of the worst diseases that people deal with," said CEO Dan Rykhus.
Raven strives to excel in four areas, which they call Dimensions of Competition: Quality, Service, Innovation and Peak Performance — Raven's term for the level at which each team member is best equipped to do their job well. Peak Performance is applied to each person's mind, body and spirit.
FIT @ Work aligns closely with Raven's emphasis on wellness. It's designed to remove barriers to help-seeking by reducing stigma, shame and fear, and by providing peer support for addiction.
Read the case study to learn more about the program's history and success, including the personal stories of employees who've taken advantage of Face It TOGETHER's peer coaching.