Data drop: Self-care for loved ones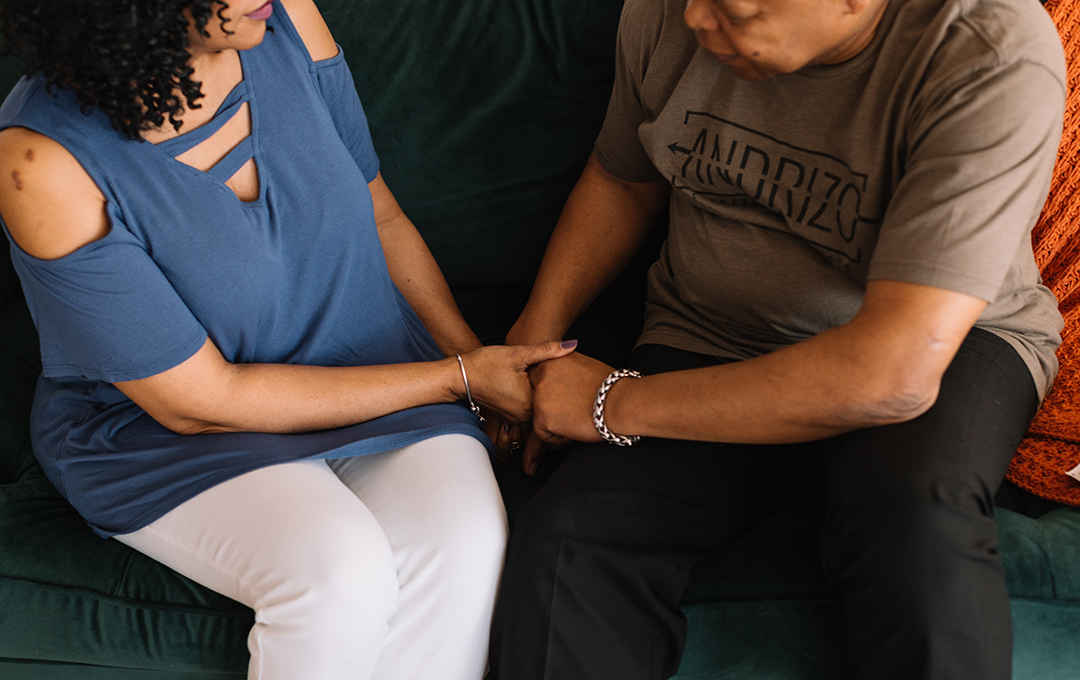 April 11, 2022
This month's data drop is 90%.  
In 2021, Face It TOGETHER (FIT) rolled out a new outcomes-based assessment for our loved one (LO) members. This assessment, the LO Wellness Index (WI), was developed internally using the expertise and experiences of FIT coaches and members. The assessment was designed to better understand the impacts to LOs based on eight pillars. This data drop focuses on one of those pillars: Self-care. From Jan. 1, 2021 to Feb. 18, 2022, FIT collected 113 intakes and at least one follow-up form from LO members. Almost all of these LOs (90.2%) were struggling with self-care at intake.  
Most members included in this analysis (83.0% out of 113) indicated they had a confidante they felt comfortable talking with. For most (54.0%), that confidante was their spouse or significant other. Almost half (49.6%) were or had previously participated in some type of therapy or counseling; 42.1% had seen their counselor in the past month. Some (17.9%) indicated personal struggles with alcohol and other drugs. Of those, 69.2% indicated no longer using.  
Most LO members reach out to FIT with the goal of getting their person at risk (PAR) help for their struggles related to alcohol and other drugs. Once the LO member begins communication with FIT, they begin to recognize the importance of their own wellbeing, which becomes the primary focus of their one-on-one peer coaching. Here are two goals for coaching LO members indicated at baseline: 
"Have better relationships with my wife and our family, more balance with my job and I would like to take better care of my physical self."

"Physical and mental health is a primary goal for myself."
At baseline, the average score for the self-care pillar for LO members was 53.24 out of 100.00 possible points. Self-care is the most common struggle our LO members report when they first enter coaching. Their self-care scores are typically lowest of any of the eight pillars measured in the WI. After at least 30 days of peer coaching, 75.9% demonstrated improved scores in metrics related to self-care. These self-care metrics, collected at baseline and every 30 days of engagement, focus on impacts from person at risk, involvement in activities, healthy decision-making, living situation and life satisfaction. They are each described in more detail below.
At intake, 79.5% of members indicated their performance in day-to-day activities, including work, was negatively impacted by issues related to their person at risk (PAR).  After participating in coaching, many members were less likely to experience that negative impact on their daily activities and/or work (73.7% after two months).

Most (73.2%) LOs become less involved in activities that are important to them while they are grappling with the addiction in their lives. These activities can include a variety of things, from physical activity to crafting. This reduction in activities is often directly correlated with the time a LO is spending on issues related to their PAR's struggles with alcohol and other drugs. Lack of rest and the increased mental or emotional struggles LOs often face as they are caring for their PAR could also be factors. There are many ways peer coaches work with members who are struggling with this metric. First, coaches remind LOs of the relief these activities provide. They offer a break from the chaos many LOs find themselves in. After three months of coaching, 81.2% of members are actively reengaging in these activities.

Many (72.3%) LOs report their relationship with their PAR can make it difficult to make healthy decisions. A chaotic and stressful environment is a barrier to seeking help and/or making positive changes in general health. Peer coaches help the LO understand the need for boundaries and using positive communication strategies, in addition to the importance of taking care of themselves. After 30 days of coaching, 75.0% of LO members are more focused on making healthy decisions. 

Almost half (48.7%) of our LO members are living with their PAR; 71.4% of those are stressed about their living situation. This living situation may be necessary because of the age and/or relationship of the person who is struggling, and therefore is not easily adjusted. Lacking that safe haven for rest and comfort can be significantly detrimental to a person's wellbeing, which is why our peer coaches work with the LO to address these concerns. Peer coaches help LOs implement boundaries in these situations. They may even help identify community-based resources that can help to improve their living situation if appropriate. After 30 days of peer coaching, 75.0% were less stressed about this.  

Satisfaction with life can directly impact a person's overall wellbeing, including their physical and emotional health. Healthy relationships with those we're closest to is often directly correlated with greater life satisfaction. Most of our LOs are in close, previously healthy, relationships with the person who is struggling. For 51.5% of LO members, the person struggling is their child; for 35.4%, the PAR is a spouse or significant other. There are long histories of love and support with these individuals. The decline of those healthy relationships, due in part to alcohol and other drugs, can be very damaging to LOs' level of satisfaction with their lives. At intake, 68.8% are not satisfied with their lives. After four months of coaching, 70.0% of LOs are more satisfied.

LO members typically consist of 25% to 30% of FIT's overall coaching membership at any given time. Supporting someone who is actively struggling with alcohol and other drugs can lead to trauma, poor health and compassion fatigue. FIT's LO peer coaching model focuses on helping members establish boundaries, reduce conflict, problem solve challenges, improve communication and strengthen their own wellbeing. Self-care is just one of the many areas in which our LO members see positive change after participating in coaching for at least 30 days. Here's a LO testimonial from our satisfaction survey:
"I had a great experience at Face It TOGETHER. I learned a lot and how to overcome my anxiety over my family member's addiction. It was nice to be able to talk to someone about the issues I faced... and be able to move forward in my life. My whole world focused around addiction and feeling helpless, and now I know I have to take care of myself." 
This knowledge discovery process provides valuable information for Face It TOGETHER. We use insights like those highlighted here to continually improve our peer coaching program, including the identification of training needs for coaches and additional programming for members. Our goal is to set members up for success in their wellness in whatever ways are most important to them.