Face It TOGETHER Health launches to deliver leading-edge solutions for addiction care
July 26, 2016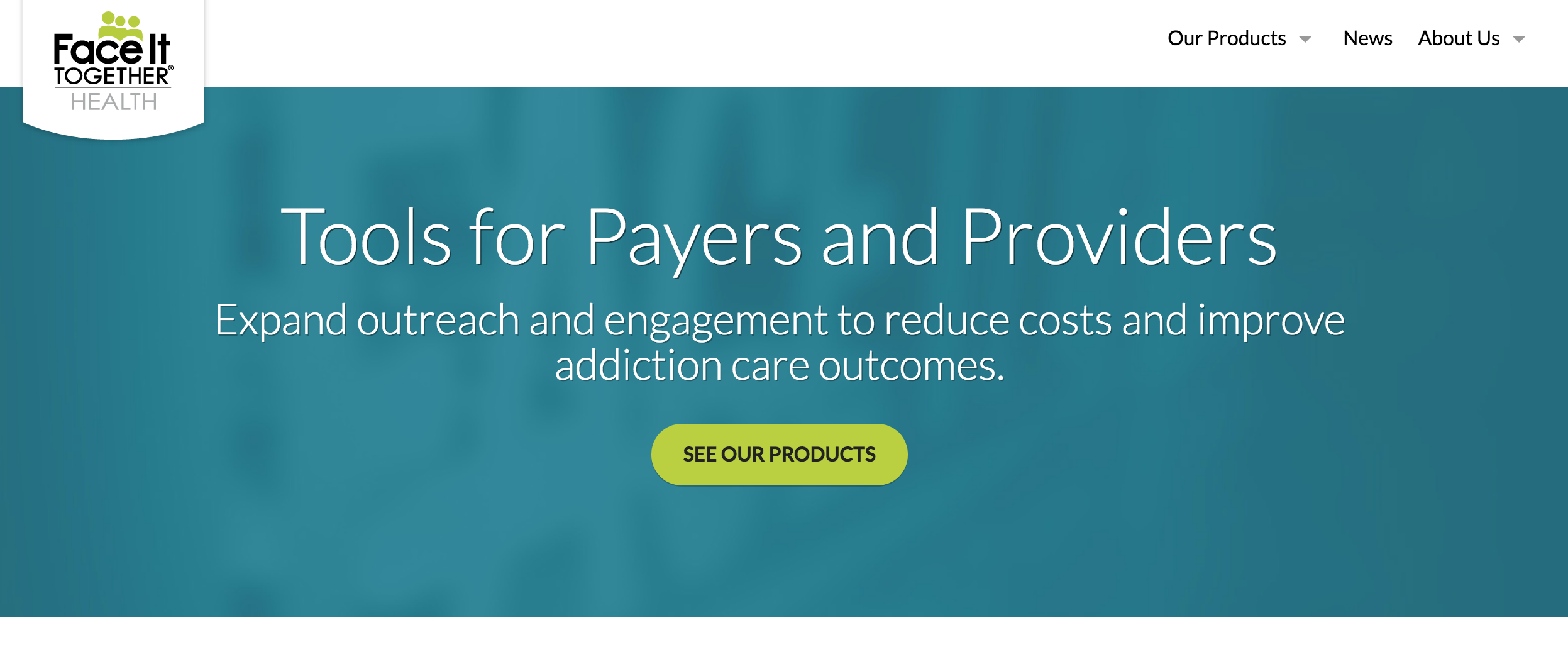 News release
SIOUX FALLS, SD – Face It TOGETHER today announced the commercial launch of a new division, Face It TOGETHER Health, dedicated to helping addiction providers dramatically strengthen their recovery support programs.
Face It TOGETHER Health will address the growing need for more effective addiction care and proven outcomes. Due to the worsening opioid crisis, addiction treatment providers are facing growing demands for expanded access as well as higher quality care with improved results. At the same time, the shift to value-based reimbursement is looming, making outcomes measurement vital for providers.
Face It TOGETHER Health will provide unprecedented tools to help providers extend quality care and engagement and measure comprehensive outcomes around addiction wellness. Its products are designed to help addiction treatment providers, behavioral health providers and payors improve outcomes for addiction recovery and better manage costs of care.
The new venture grew out of the national nonprofit Face It TOGETHER, which has been working in communities since 2009 to foster system change around addiction. A key focus of its work is peer recovery coaching, with a major emphasis on data, technology and outcomes measurement. Through this work they've developed recovery support products that are now being commercialized to help providers strengthen their own addiction care programs.
"We know that addiction is a chronic disease, requiring ongoing support and self-management," said Steven G. Schwartz, President of Face It TOGETHER Health.  "We're focused on helping addiction care providers extend the continuum of care in a cost-effective way and measure meaningful outcomes."
Face It TOGETHER partnered with the leading digital health firm Welkin Health in 2015 to develop a custom technology platform to help coaching or clinical teams easily provide remote support for addiction recovery so clients can stay healthy.
AXISTM is a powerful web-based platform that enables the care team to provide continuous support and assess changes in a client or patient's addiction health. It facilitates post-treatment engagement and ensures patients get the support when they need it most – via text, email, phone or video. The HIPAA-compliant platform streamlines workflow for care team members and captures interactions. It also integrates with EHR systems.
The platform also includes a groundbreaking assessment tool for measuring addiction wellness, the Recovery Capital Index® (RCI). The RCI is the only multidimensional measure of addiction wellness designed to track and inform the long-term continuum of care essential for addiction sufferers to stay well.
"The typical measure of recovery is focused only on one symptom – use or non-use. We've developed the Recovery Capital Index to provide meaningful information related to components of personal, social and cultural capital that reflect overall addiction wellness," said David Whitesock, Chief Data Officer.
AXISand the Recovery Capital Index are available for licensing. Face It TOGETHER Health will also offer customers optional staffing for remote peer coaching and recovery coach training.
To learn more, visit www.faceithealth.org.