September 13, 2018
This month's data drop is 12%. 
Face It TOGETHER (FIT) members with the disease of addiction demonstrate improved recovery capital after engagement with a peer addiction management coach. Members identifying as female (56.6%) showed significant improvement in recovery capital earlier than members identifying as male (43.4%). Females also showed a regression in their recovery capital earlier (30 days) and continued growth from then on. 
FIT requests all of our members complete a Recovery Capital Index (RCI) at baseline and every 30 days while engaged with one of our coaches. After 30 days of engagement, females have an average 11.6% change in total RCI score when compared to their baseline. While males show improvements in their RCI results at 30 days, they do not achieve a similar (12.3%) average change in score until 120 days.  
Through continued review of individual outcomes, we have learned our members will demonstrate a stall or regression in their wellness progress at some point in their journeys. This drop in recovery capital is a testament to the hard work our members take on when seeking wellness. After approximately another 30 days of continued engagement with a coach, members typically resume their improvement in recovery capital.  
Through this most recent analysis of RCIs – collected from FIT members engaged from 1/1/16 to 6/30/18 – females show a regression in their recovery capital earlier than males (60 days vs. 90 days). The decrease in RCI total score (90 days) for males is more significant than the decrease we see in the female scores (60 days). Males appear to regain progress in their recovery capital quicker than female members; however, females show a continued steady progress on their recovery capital after that initial regression.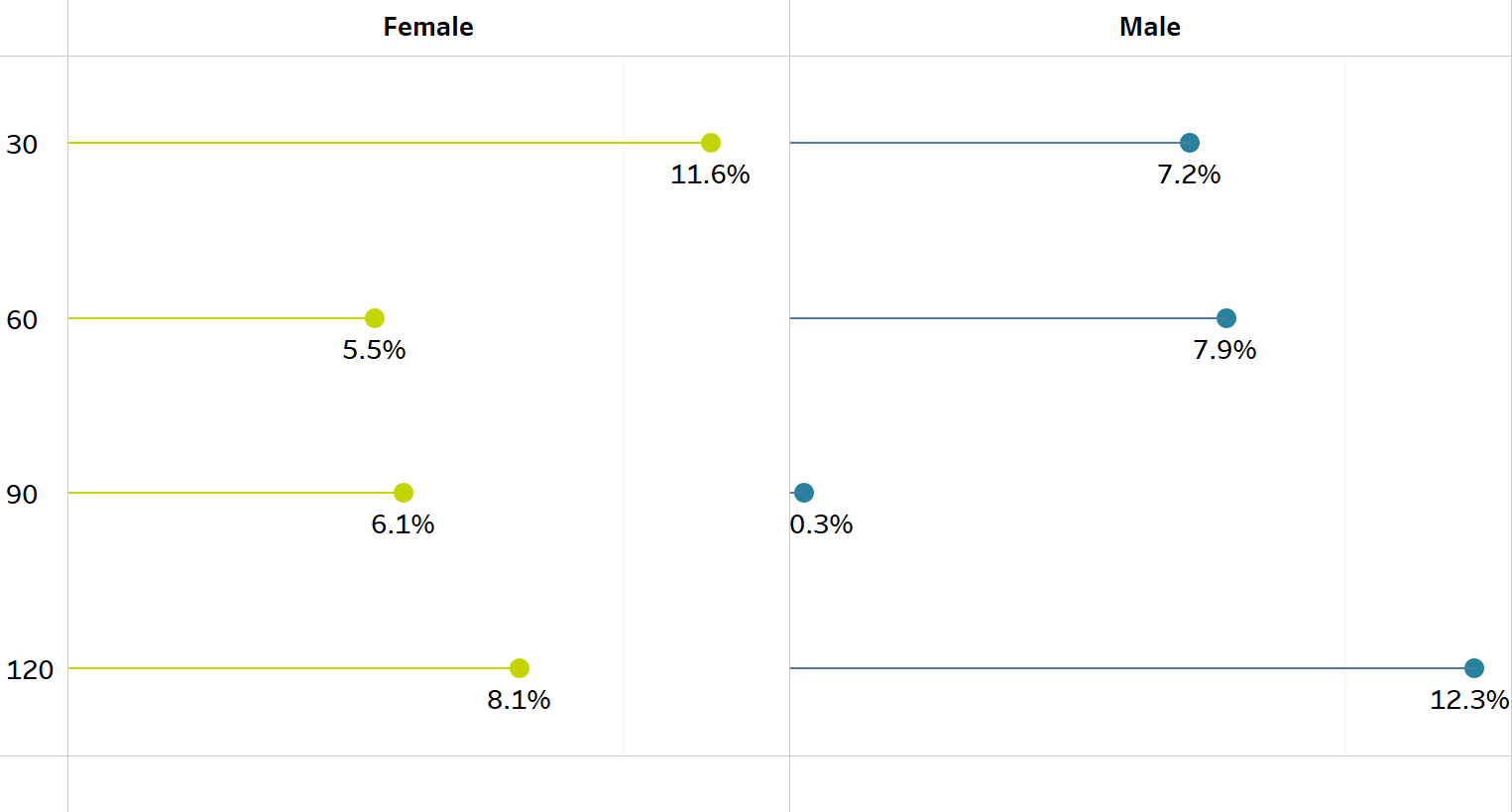 FIT peer coaches help our members understand the changes in recovery capital that occur throughout their wellness journeys. Our coaches use their lived experiences to help our members understand their daily struggles in getting well do not need to be feared. We will continue to seek and explain insights regarding addiction wellness as we work to solve this chronic disease.